---
Newly Added Products!!
---
Quick & Simple Gifts/ Add- Ons
Drill Instructor Cover Key Chain
1st batch came in and selling them for $8. Only 100 in stock and 2nd batch will have corrections. Will get second batch around March time frame.
Buy Now
Non-Profit 3rd LAR Association Gifts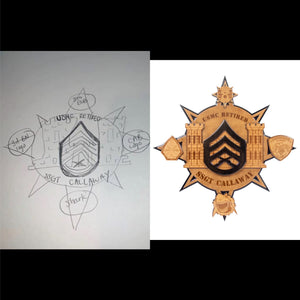 100% Customization
Our customers have the luxury of being as creative as they would like- while still receiving the exact product of what they want. From the original sketch to the finished plaque, we guarantee 100% customization to fulfill all of our customer's needs.